Saint Joseph's Revisited
Back in September I wrote about Old Saint Joseph Church located at the corner of College Avenue and North Street. I mentioned how sad it was to see the building, which has not been a Catholic Church since 1949, deteriorate. Since I had many family members, married, buried or baptized at Old St. Joseph's, it's apparent imminent demise was sad, even if it has been not much more than an empty shell since 1949. Monsignor John J. Doyle, for whom this web site is dedicated celebrated his First Mass there. Last September I discovered the excellent talent of M.W. Lafary, an Indianapolis photographer, who takes pictures of dilapidated buildings using film, instead of digital methods. He featured St. Joseph's interior, which I had not see in over 30 years.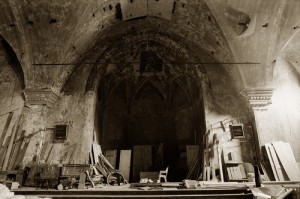 You can visit Mr. Lafary's blog page to view the photos and his accompanying text.
Recently it was discovered that the building and its interior had, in fact, been purchased and renovated into an office space. Yes, the sacred space is gone. The Gioscio frescoes have disappeard, but look at it now!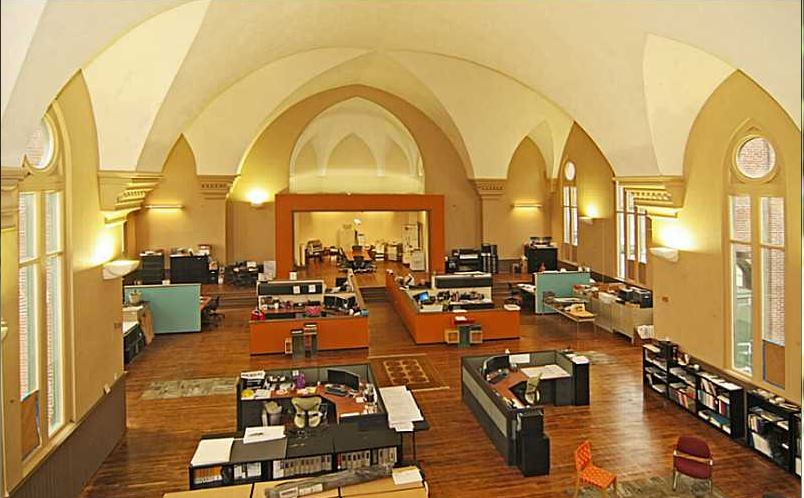 Posted: December 17th, 2013 under Postings.
Tags: Indianapolis, Saint Joseph Parish
Write a comment