Death of Bishop Bazin
Perhaps, the short term of Bishop John Stephen Bazin is one of the most overlooked periods in Indiana Catholic History. Then again, if you were a member of the Sisters of Providence of Saint Mary of the Woods, maybe not!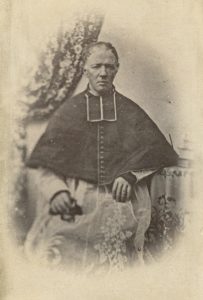 During his time as bishop, from October of 1847 until April of 1848, the young Diocese began a healing process which helped to keep Saint Mother Theodore Geurin in Indiana as well as many priests who had probably considered going different places.
This was all due to the man who preceeded Bazin, Bishop Celestine de la Hailandiere. This is not to "blame" him for the "troubles", but it does say that he was certainly in the middle of many of them, mostly due to his strict and legalistic ideas about the role and power of a bishop.
However, it was on this day, April 23, 1848, that Bishop Bazin died after only six months as Bishop of Vincennes. He could certainly be seen as a "bridge", albeit a short one, from those 'pioneer' days to the explosion of growth that came to the Indiana Church in the mid 1800's with the waves of immigrants.
The "Catholic World", published by the Paulist Fathers, and Isaac Hecker, had an article in their January 1917 issue, entitled Indiana's Debt to the Catholic Faith", by Louis P. Harl wrote:
Bishop de la Hailandiere's successor, Right Reverend John Stephen Bazin, had been qualified by seventeen years of labor in the diocese of Mobile for his new work. He was consecrated in Vincennes on the twenty-fourth of October, 1847, by Bishop Portier, of Mobile. But his career as a bishop was cut short less than six months later by his sudden death, April 23, 1848. He was buried beside Bishop Brute in the Cathedral of Vincennes.
Bishop Bazin was born in Duerne, in the Archdiocese of Lyons, France, on October 15, 1796. He was ordained a priest at Lyons, July 22, 1822. He came to the United States in 1830 and was appointed vicar general of Mobile. As mentioned above, he was consecrated bishop of Vincennes in the cathedral at Vincennes, October 24, 1847, by Bishop Michael Portier of Mobile, assisted by Bishop Purcell of Cincinnati and Bishop de la Hailandière, his predecessor.
Posted: April 23rd, 2017 under Postings.
Tags: Bazin, Bishop of Vincennes, Hailandiere
Write a comment