Patrick Rattigan
Who? Patrick Rattigan? Or, was it Ratigan? The name doesn't ring many bells in Indiana Church history, but there is still a story to tell.
According to the "official" record, that is, the "Liber Ordinationum", It shows the first ordination was that of Matthias Ruff on April 4, 1835. Ruff was ordained to the Sub-Diaconate. The image below, to the left is a copy of the original Liber Ordinationum, or the official book of ordinations. It shows the Sub-Diaconate ordination of Ruff as the first entry.1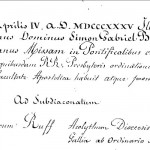 Brutés first ordination to the priesthood wasn't until March 12, 1837 when he ordained Michael Edgar Shawe. This marked the beginning of the ordinations of those "recruits" that Brute brought back from France in 1836.
But what about this Rattigan (or Ratigan) guy? Was he the first candidate to receive Orders? Probably yes, but why wasn't his reception of minor orders documented? It appears that Patrick Ratigan was ordained to the four Minor Orders on December 22, 1834, just about six weeks after Brute had taken possession of the Cathedral of St. Francis Xavier on November 5, 1834. The absence of any record is probably due to the fact that Mr. Ratigan never completed his orders (Sub-Diaconate, Diaconate, Priesthood) as a member of the Diocese of Vincennes. Brute had written earlier to Mother Rose White, the Daughter of Charity who had become the second superior at Emmitsburg after the death of Elizabeth Ann Seton. He wrote:
…furthermore that of my first seminarian Mr. Ratigan, the good Irishman, all ready to be ordained who I have brought back with me from St. Louis. We make together the conclusion of his seminary, our exercises, etc., in traveling, for I have brought him here with me and this evening we review Ligouri, etc
It turns out, however, that Ratigan didn't make the grade. Father Robert Gorman wrote:
Ratigan, the first seminarian in the diocese did not measure up to the bishop's standards. He was a rather persistent young man and had studied previously in two or three seminaries. Brute held the first ordination in the cathedral on December 22, 1834 when he conferred the four minor orders on him. He aided in the Christmas services but shortly after that Brute, convinced that he lacked not only proficiency in his studies but also prudence, dismissed him. He was ordained later, probably in the east, and stopped for a short time at Floyd Knobs in the fall of 1837 on his way to St. Louis. The policy of Brute was to use extreme care in admitting priests into the diocese.2
Brute dismissed him sometime in early 1835. It is unclear where he went after leaving Vincennes. At one time it appears he had sought to become part of Bishop Purcell's Diocese of Cincinnati, but Purcell said he had no means of supporting him. This was probably while he was still a seminarian. Ratigan had left the seminary at St. Mary of the Barrens, in the Diocese of St. Louis. Apparently conditions weren't so good there since 22 of 28 seminarians had left because of conditions.3
Once again, it is unclear when and where he was ordained, but it could easily have been Philadelphia since he later served in western Pennsylvania, which was, then, part of the Philadelphia Diocese. He appears, as mentioned above, back in Indiana later for a short time. In Sister Mary Selesia Godecker's "Simon Brute de Rémur" she says that…
"Father Neyron visited the bishop at Vincennes on November 29 (1837), and imparted a bit of unwelcome news. Mr. Ratigan had come to the Knobs during the bishop's absence and after preaching to the congregation he departed from New Alban for St. Louis. His intentions were were to join the St. Louis Diocese but if Bishop Rosati would refuse he would return to seek employment at Vincennes. Bishop Brute wrote asking Bishop Rosati to persuade Mr. Ratigan not to come because he would never accept him" 4
As already mentioned, Ratigan later turns up in the Diocese of Pittsburgh. Their records show him as an ordained priest, but no one seems to know where or when he was ordained. Pittsburgh's records show him ministering to Catholics in Bradford and Susquahanna counties in Pennsylvania as early as 1837. The 1839 Catholic Directory shows the following — Johnstown, St. John Gualbert's, 3d Sunday-Rev. P. Rattigan. — The church at Summit Pennsylvania, called St. Patrick's, was completed in 1839 by the Rev. Patrick Rattigan, (appointed pastor of Johnstown, Jefferson and Summit in September 1839). According to a history of the Diocese of Pittsburgh, Rattigan was named resident pastor. It seems his health deteriorated and he left that parish sometime in 1845-46.
The last item found was an entry in Find-A-Grave showing the burial site of Father Ratigan/Rattigan. He was living in Lloydtown, Canada, apparently ministering there. His body was brought back to St. Mary Cemetery in Lawrenceville, Pennsylvania, near Pittsburgh. Their records show he died on June 10, 1859, even though the "Find-A-Grave site says he died in 1865. There was a brief obituary which appeared, in the Pittsburgh Post It says:
Death of A Priest:
Intelligence has been received here of the death of Rev. Father P. Rattigan, which took place at his residence in Lloydtown, Canada West. Father Rattigan was first stationed near Loretto, on the Allegheny mountains, but afterwards had pastoral care of the congregation of the old Cathedral in this city by whom he was much beloved. He was subsequently sent as a missionary to the Missouri Indians, and finally took charge of the congregation in the place where he died. He was eighty years of age.5 His remains will be brought to this city for interment."6
Obviously, there is quite a spread of years between the cemetery record, the "Find-A-Grave: website and the "obituary" in the Pittsburgh Post. The point is to piece together information about Fr. Rattigan so as to better understand and remember those who have gone before us, whether they remained in Indiana or not. So, we will continue to look into this fascinating story. Stay tuned!
Posted: October 7th, 2018 under Postings.
Tags: Bishop Brute, Minor Orders, Pittsburgh, Ratigan, Rattigan, St. Francis Xavier Cathedral
Write a comment